Latest Posts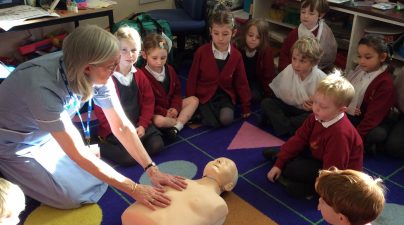 Tuesday morning saw us welcome some special visitors.    As part of our current topic we held a "Marvellous Middle" morning and had the opportunity to learn more about looking after ourselves and others.  The children have learnt how to mend broken bones, how to make an emergency call, keeping their teeth clean and how babies
Read more
Year 2 pupils spent Monday morning at the Ashcombe School for an indoor athletics festival. The children were able to take part in six different activities, enjoying a fun filled time with a number of other infant schools also attending and then returning to school in time for lunch!
Read more
The whole school assembled today to commemorate Armistice Day.   We held a two-minute silence to remember the nation's war dead and laid wreaths and crosses made by the children in our hall.  For us this is a very appropriate time to remind ourselves that we are hoping and praying for peace in our communities and
Read more
Thank you so much to all of our volunteers who were able to help on Saturday at our second Out and About day.  So much has been achieved with lots of planting, clearing and rotivating taking place! Thank you also for all of the fantastic plants that have been kindly donated.
Read more
This week Reception children have been busy being "Bug Detectives" making the most of the outdoor learning area.  We've been looking at the Bug Hotel – seeing whos checked in! Using a  Magnifiying glass the children have done some lovely observation drawings and have written the initial sounding of their favourite bugs using their phonic
Read more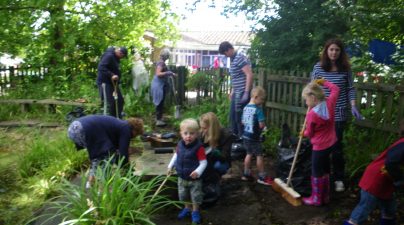 The Out and About Day held on the 2nd of July was a great success with over  30 volounteers including lots of little helpers.  We managed to tackle the pond and the quiet area.  Another date has since been put in the diary for the 15th October.  We hope you are able to join us.
Read more